About
Homelands, places of belonging is a community co-creation project for and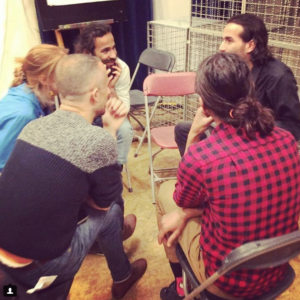 by refugee artists, led by the International Yehudi Menuhin Foundation and its partners.
Eight refugee artists will engage, over a period of six months, in a process of artistic co-creation with the local community. This collaboration will be carried out in tandem with seven partners from the Brussels socio-cultural sector who will support the artists in their work.
Based on the notion of "HOMELANDS", the project is an artistic search on what it means to be at home, to belong to a city, a community, a neighbourhood, etc.
The project Homelands aims to invest in a story of positive and humane inclusion by creating a lasting dialogue between Brussels citizens and newcomers through one of the most powerful tools of each culture that is ART.
To give refugee artists the opportunity to regain their place as artists in society, to co-creatively share their know-how with the host community and to become the (inter-) cultural mediators of tomorrow. This is the our mission.
The artists 
Ahmad Al Saadi – Photographer from Palestine
Mohamed Aukal – Dancer from Palestine
Tony Bland Degli – Fashion designer from Togo
Abdelsalam Abunada – Painter from Palestine
Hussein Rassim – Musician form Irak
Chinara Miamona – Painter from Azerbaïdjan
Shalaan Lazim – Sculptor from Irak
Ali Sabri – Painter from Irak